"If you can't hold children in your arms, please hold them in your heart."
Clara McBride Hale
Born April 1, 1905, in Philadelphia, Pennsylvania
Died December 18, 1992, in New York, New York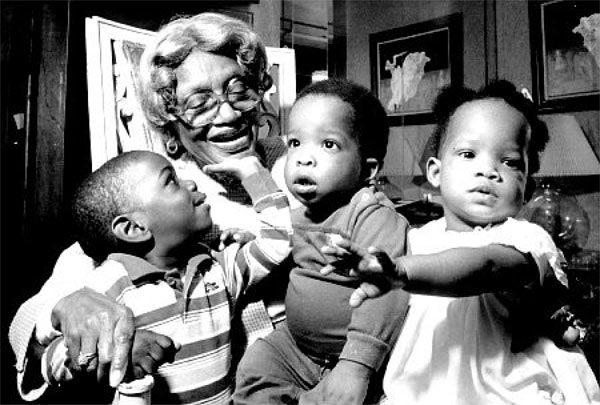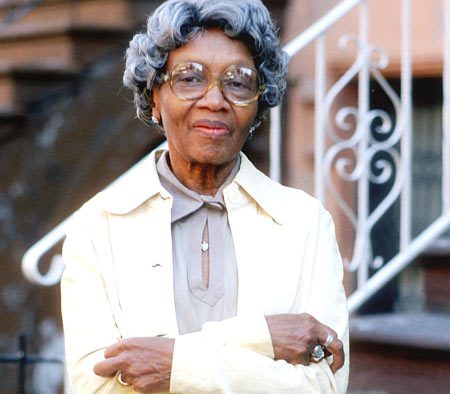 My mother always had a house full of children she had four children and all the neighbours children came to our house.
You couldn't tell that my mother was not white. See my grandmother they said she was a beautiful woman. She was a slave and the master gave her my mother. They had some mulattos that they called "free issues." That's what happened with my mother. She had all the features of the master and she was as fair.
But she was a fair woman. I mean not only in color. She knew what was happening and she taught this. She kept saying, "I want you to hold your head up and be proud of yourself we were brought over and we were enslaved all this time but it's over now you're supposed to be free but you aren't free remember that."
My husband and I had dreams of what we were going to do with our children. We dreamed that they grow up and be what they want to be and have a good life. My first child was Nathan. Nathan Hale. Oh, I was really an American. I wanted them to know.
My husband died when my daughter Lorraine was five and Nathan was six. There was no way under the sun that they would give you any other job except domestic jobs. And that meant being away all day from these poor little children who had nobody.
So I decided to take in other people's children. They were coming for 5 days and going home Saturday and Sunday. But they got so they didn't want to go home. They wanted to stay with me all together. So the parents would give me an extra dollar, and that meant I kept them all the time. My daughter said she was at least 11 years old before she realized that these were not her sisters and brothers.
So I raised 40. Every one of them went to college, every one of them graduated, and they have lovely jobs. They're some of the nicest people. Anything they wanted to do, I backed them up. I have singers, dancers, preachers, and things like that. They're schoolteachers, lawyers, doctors, anything else. No big name or anything, but they're happy.
In 1969, I decided I wouldn't take care of no more children. Then my daughter sent me a girl with an addict baby. Inside of two months I had twenty-two babies living in a five-room apartment. My decision to stop didn't mean anything. It seems as though God wanted them, and He kept sending them, and He kept opening a way for me to make it. It's been over 600 addicted babies.
We hold them and rock them. They love you to tell them how great they are, how good they are. Somehow even at a young age, they understand that. They're happy and they turn out well.
Being black does not stop you. You can sit out in the world and say, "Well, white people kept me back, and I can't do this." Not so. You can have anything you want if you make up your mind and you want it. You don't have to crack nobody across the head, don't have to steal or anything. Don't have to be smart like the men up high stealing all the money. We're good people and we try.
I'm not going to retire again. Until I die, I'm going to keep doing. My people need me. They need somebody that's not taking from them and is giving them something.
We're going to open a place for children with AIDS because there's no cure and these children will die. People shun them and it's not their fault. I want them to live a good life while they can and know someone loves them.
It's back to being very bad for black people now. But I'll live through that, too. If I don't, I have a daughter that will carry on. I have grandchildren and great-grandchildren. They have the same feeling. When I'm gone, somebody else will take it up and do it. This is how we've lived all these years.
I'm hoping that one day there will be no Hale House, that we won't need anybody to look after these children, that the drugs will be gone.
John Lennon donated thousands of dollars to Hale House before he died, and the John Lennon Spirit Foundation perpetuated his generosity with annual contributions after his death.
In 1985, President Ronald Reagan saluted Mother Hale in his State of the Union address as an "American heroine."